QRP Lowfer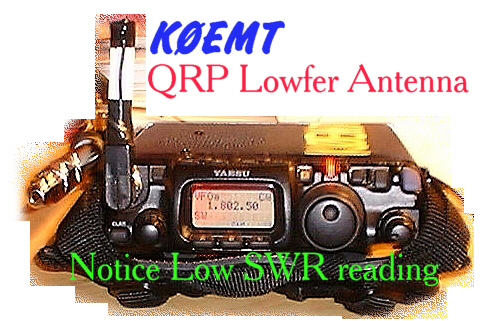 The lowfer "kit" - a bit fuzzy SRI!
Close Up - very sharp!
Numerous people on several yahoogroups, of which I am a member,
have commented about portable HF antennas being a compromise in
performance versus convenience. I believe this antenna slams down
the scale on the side of convenience for operating 160M and 80M portable.
Materials
Right Angle BNC Connector
Radio Shack #271-133 - 50Ohm 10W Resistor
Construction
Solder one wire of the resistor to the ground side of the BNC
Check for clearance with Plastic boot first!
Solder a jumper wire between the other wire and the center conductor of the BNC
Replace plastic boot and Vinyl tape boot and exposed wire.
Evaluate on antenna analyzer
Have fun!
The analyzer showed low SWR on 160M and 80M. My FT-817 agrees.
40M and 30M show a bit higher SWR on the analyzer.
The 817 shows 3 and 4 bars respectively.
I was testing with 2.5W out CW.