Trailer hitch mast mount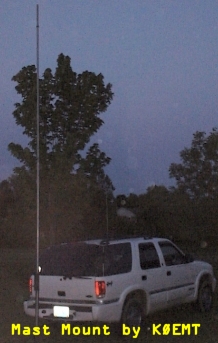 I designed this this mast mount because I wanted to be able to rapidly deploy a mast mounted antenna in a location that didn't have other supports available.
Design Criteria:
When not in use fit inside vehicle
Be able to handle large to small diameter masts
One person should be able to safely put up mast
Should not require user to lift mast through top clamp
Even if collar is loosened, it shouldn't slide down mast
Should be a no-tools deployment
Minimize moving parts
Can open window portion of hatch while mount is in place
To deploy this mast mount:
Put the bottom collar on the mount first
Make sure the bolts are loose on the bottom collar
Put your antenna on the mast, pulley for wire support, etc.
Slide the top collar onto the mast
Place the end of mast on top of the bottom collar
Hold the smooth side of the collar in your hand, supporting the mast
Support the mast with your other hand as well.
Erect the mast keeping the bottom in the mast mount
As you get near vertical the mast should drop to the ground inside the bottom collar
Slide the top collar down into it's tab, making sure to orient it properly.
Tighten down the bottom collar
Done!
After having practiced with this mast mount, I would likely have the bottom collar welded to the rest of the frame. Although that doesn't lend itself well to transport. So, it's a toss up.
John, AA0ZC built the mount for me. If you would like him to build one for you, contact him directly for an estimate.