Moniteau County ARES Responds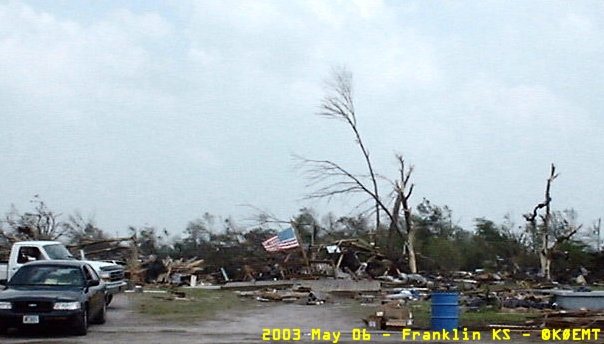 Sunday May 4th

From:    Bryan Nehl, K0EMT
         Moniteau County Emergency Coordinator

Re:	 Moniteau County ARES response to Storm and then Camden County

EMA requested we go to a standby status at the EOC and we were able to
be on the air from the EOC monitoring our local UHF repeater and the
area SkyWarn net.  We were also able to maintain communication with
the National Weather Service in St Louis via the W0SMI linked
UHF Repeater system.  We were glad to be able to relay information
from the lake area to them.  A number of our members were spotting in
the field.

As the storm front was clearing our area we monitored a request for
communications and medical assistance in Camdenton.  They had been hit
by a tornado.  As our area appeared to be in the clear, a contingent
of three of our operators made a rapid response to Camdenton.  Of the
three responding, two were Fire Fighter/EMT trained and the other a Chaplain.

During the trip progress was monitored by the Moniteau County EOC and
critical information was relayed both to the responders and to the EOC
in Camdenton.  Information included a new tornado warning for Camden county.

Once on scene the Chaplain was assigned to the shelter being
establshed for those displaced by the tornado(s).  The FF/EMT's were
assigned to a rescue squad and were the primary first responders for a
wide coverage area.  Many of the surrounding communities had resources
nearly depleted because of the response to Camdenton.

Our ARES members were released from their posts as operations stood down 
for the night. The members arrived back home at 3:35AM.

Tuesday May 6th

From:    Dale Huffington, AE0S
         District F Emergency Coordinator

Re:      Request for Assistance from ARES

On Sunday, May 4, 2002 a major storm went through several counties in
Southeastern Kansas and southwestern Missouri causing 21 deaths and
widespread destruction of buildings.  The MO section ARES leader's request
for HF contact with the affected counties in Missouri led to contact with an
ARES group working in Kansas, as well.

In response to a request for assistance from the ARES group on site in
Girard and Franklin, KS, ARES members in District F provided
communications on VHF and HF on Tuesday, May 6, 2003.  The team
included Kurt Bleich, KB0HNR, Robert Jett, K0YBN, Bryan Nehl, K0EMT,
Jim Oney, KE0UY, and Dale Huffington, AE0S, team leader and District F EC.

At 9:00 a.m. The team reported in to the Salvation Army Center in Pittsburg,
KS, where the command post was established.  Captain. Womack, S.A.,  briefed
the District F team and local amateur Taylor Francis, KA5NOM (from near-by
Nevada, MO).

Communications on Monday were provided by KA5NOM and a SATERN team that
included George McCarville, WB0CNK,  Daniel Reed, N0ZIZ  and other amateurs
from the region.

KA5NOM set up the 40 meter station at Girard with K0YBN.  KA5NOM maintained
contacts with Kansas City on the half hour and K0YBN manned the VHF link on
146.52.  The site received donations and inquiries which were relayed to
Salvation Army HQ in Pittsburg.  KE0UY and AE0S set up a mobile station at
the command post in Franklin, adjacent to the S.A. canteen.  There they
monitored the 40 meter link and carried traffic regarding supplies for the
canteen and accommodations for volunteers.  At the Pittsburg Salvation Army
location, KB0HNR and K0EMT set up another 40 meter station and a 146 and 440
MHz station. KB0HNR coordinated traffic among all sites and several outside
stations relaying weather information about tornado watches and warnings
affecting our locations.  K0EMT served as a roving station
for much of the day.  He also set up an alternate HF station with wire
antennas on 40 and 80 meters and provided communications with Kansas City
Salvation Army HQ when communications at the primary location became marginal.

Equipment provided by the team and set up on site included dual band VHF/UHF
mobile units, dual band hand-held units, transceivers, wire and vertical
antennas for 80 and 40 meters, push-up poles for VHF and HF antennas,
batteries, inverters, coax, spare VHF/UHF antennas and repair equipment
including antenna analyzers.

During the afternoon the District F team was advised of
reported tornado touchdowns in their home location.  Since KB0HNR and K0EMT
are Emergency Operations Manager for and ARES Emergency Coordinator,
respectively, for Moniteau County, they maintained close contact with the
amateurs providing information from NWS via Internet link and broadcast
reports.

By 3:30 supplies had been distributed and volunteer housing arranged.
Communications needs at the KS sites were minimal.  The team broke down
stations and checked out with Salvation Army HQ in Pittsburg, returning
through areas under tornado warnings.  Only heavy rain and hail were
experienced.

All pictures will open in the same external window.
Note: as time allows I will add more commentary to this page. - kØemt